Want2race has to have been the highlight of my year and it'd be right to first thank Ben Hyland and Ginetta for setting it up. There really aren't any other experiences available in the UK quite like this competition – the chance to get this much seat time in the thoroughbred G40 race car (including Ben's own very pretty chrome blue one!) getting invaluable tuition from champions of multiple British racing series. I'd imagine there's a lot of risk physically and financially putting 100 eager but inexperienced rookies behind the wheel of such a potent machine – especially considering the weather conditions for the final but I'll get onto that! So I'm very grateful to all involved.
The instructors Adam Morgan, Rob Boston, Jack Goff and Stuart Pearson, despite being in a different league to most drivers, were so easy to approach and learn from and so down to earth. This also includes Max Coates who was giving us hot laps in his G50 race car, providing mind-blowing lap after lap all day. I already had a huge amount of respect for these guys but after this week it has really jumped to another level.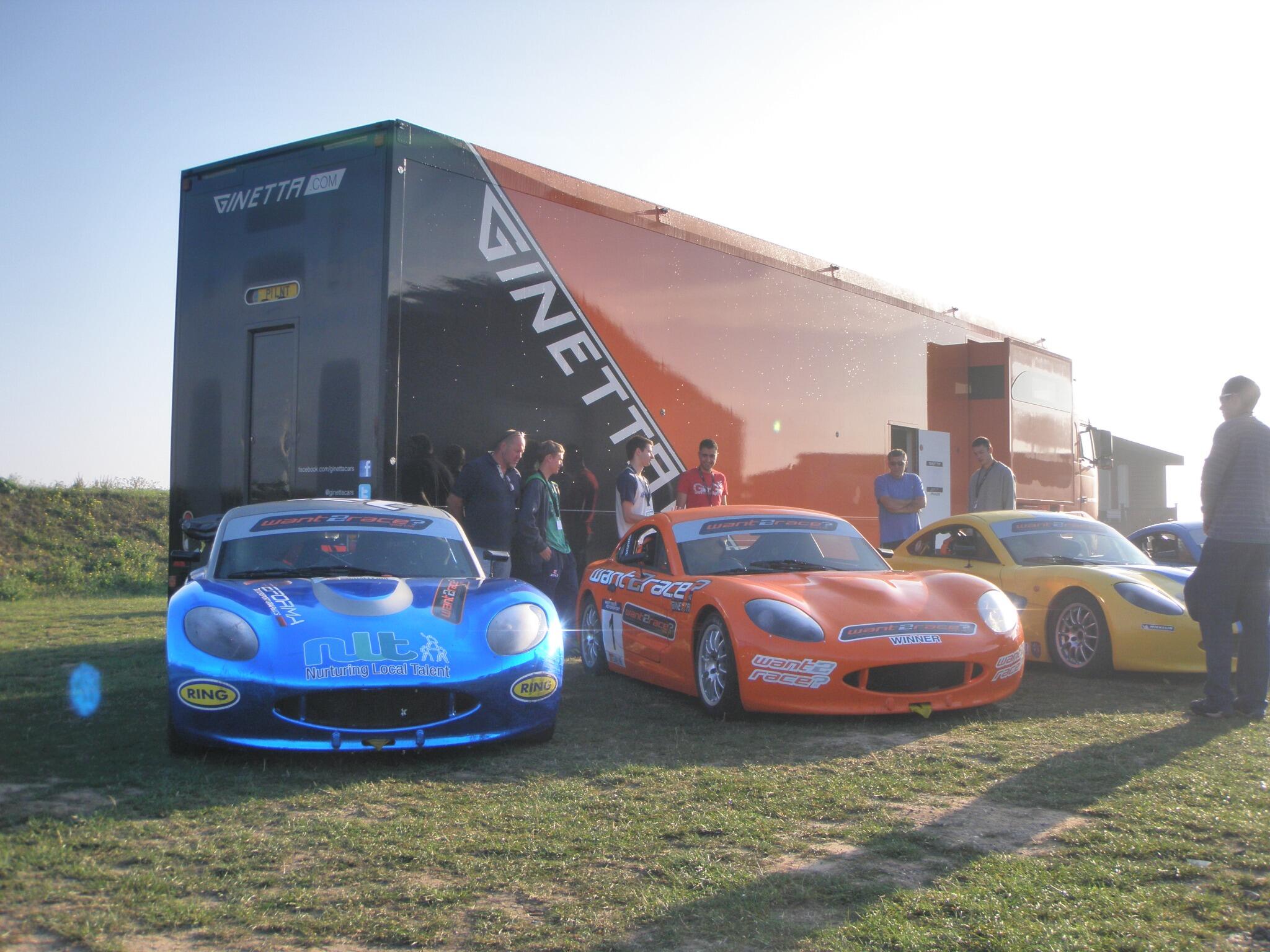 Want2race 2013 – the cars lined up on the misty morning of my heat
So how did it go?
I took part in the second of the two heats where we all received 3 sessions in the G40 with 3 instructors, a masterclass with Max in the briefing room, and a few goes at the simulator (or Gran Turismo.. which I had been practising all week!) Our briefing had emphasised listening to our instructors very carefully. I had no intention of blasting off from the first lap, but at the same time I knew I had to get up to speed fairly quickly.
In the car, a mixture of clear commands and valuable advice came across the radio into our earphones from our instructors while on track. The car was exhilarating, screaming along down the back straight before nailing 3 quick downshifts into a tight chicane felt extremely gratifying! I could feel myself improving lap after lap, concentrating on getting good pressure on the brakes, smooth inputs, heel and toe (this wasn't being marked but I wanted to master it), using as much track as I dare and early throttle pick up from the apex. The day went well but I knew I could be going faster. I got some great feedback from all the instructors and identified many areas to improve on, but something was also holding me back that I couldn't quite put my finger on. Earlier I had set the second fastest time on the simulator/Gran Turismo but video games and real life unfortunately don't fully translate.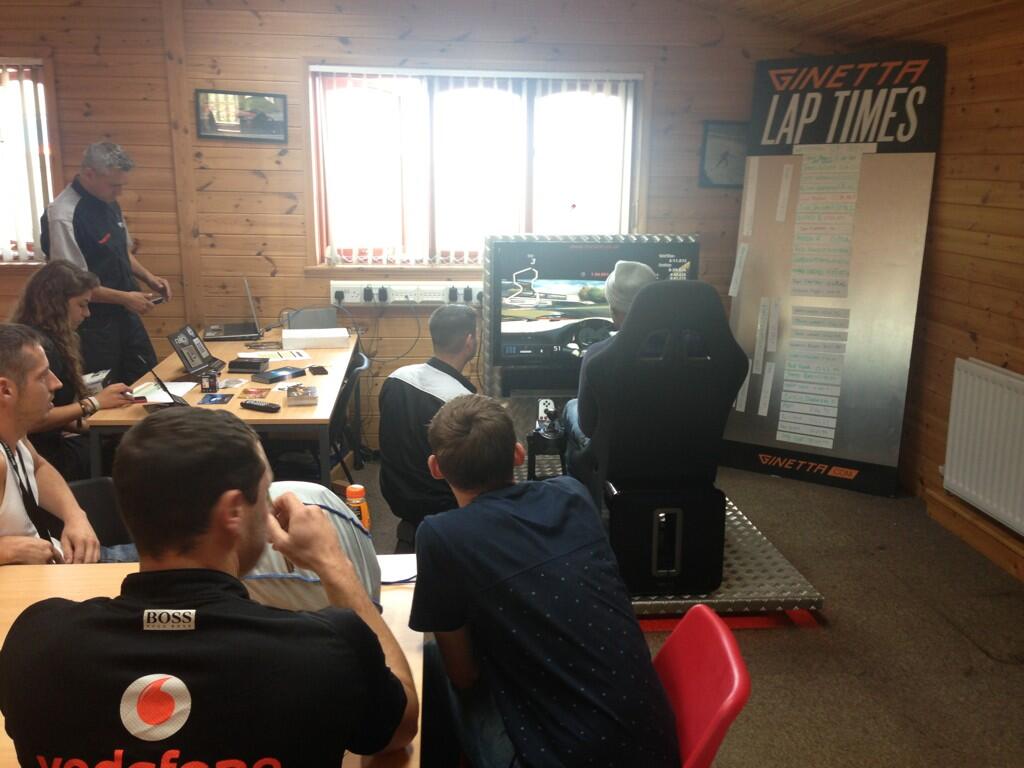 The simulator, my fastest time 38.3
The first day had to come to an end eventually and before I knew it my sessions were over. We were all lined up in front of the bright Ginetta-orange truck parked next to the track, in order to announce who had been selected to come back the next day for the finals. The atmosphere was tense as only 15 of us would get through. I wasn't sure whether I had done enough, but I'd given it my best shot and so would've been pleased with any outcome. That's what I told myself anyway!
Ben started to announce driver numbers and names one by one, the lucky few. I was willing him to say my 3 digit driver number 205. He would often start with my first number but finish with the wrong two! With my number still uncalled Ben turned around saying, "I've lost count is that all of them?" Oh no, I was sure this was the end – but then another number was called – 205! With a fist punch reminiscent of Andy Murray winning a game at Wimbledon, I stepped forward to join the other finalists. The next day would bring on determination from the top 30 even more intense.
My 1st session in the G40 with Rob Boston – taking it easy, getting used to the car
The final
Much to my disdain the weather forecast had been proven right and Blyton Park was soaking wet! This would make things very interesting. I wanted to use my experience from the day before to build on, now I had to start from scratch, but it was the same for everyone. My session in the car was due to be the last of the morning and worryingly we could hear the screech of cars on track already spinning off into the final corner. No doubt it was going to be hard to manage grip at any speed.
Before I would drive the G40 again, there was the dreaded interview! A panel of three judges sitting on one side of the table and me on the other. I'm normally pretty calm at interviews but I just didn't know what to expect! My answers to questions like, "Why are you going to win the competition?" and "Here's a microphone in your face, 30 seconds to tell us how your race went!" should have been met up with the eloquent and charismatic responses I had planned but instead resulted in an awkward mess and even I was cringing. Not the racing hero I was trying to be!
2nd session in the G40 with Adam Morgan – eager to impress but slightly hesitant on corner entry
I finally got out on track with Adam beside me. On the first lap the rain started to pour again, which meant a few moments of zero visibility at the fastest part of the track while I figured out how to turn the screen wipers on! Even in the rain, in retrospect I think I ended up being too cautious becoming hesitant on the brakes into some corners and slowing down far too much to make sure I made it through without drama. I had a couple of brown trouser moments coming out of two corners that involved applying the throttle while turning – a moment too eager to push on and the back would snap, forcing a frantic scrabble at the steering wheel to catch it. Thankfully I did and Adam kindly followed it up by remarking, "good catch!" Four laps were spent trying to be as sensitive as possible but not really going very fast, and I knew then that I was probably going no further.
The six best drivers would get another two sessions, only three would drive a final session with head judge, veteran racer and TrackDriver mag editor Mark Hales, who would help to select the winner! This time predictably my number wasn't called but I stayed to watch the final sessions. Ashley White was eventually crowned the want2race 2013 winner and you could tell just by watching his attitude in and out of the car that he would be the one – no sign of any emotion he was calm outside the car and fearless inside it. His parents were nervously but proudly watching too, telling me that although he had competed nationally in karts, he had never driven a race car before. Spectators were unofficially timing the final session on their phones and spectacularly he was four seconds faster than anyone! Everyone agreed that this guy was a worthy winner, and it's going to be intriguing to see how he gets on at Donnington in October.
My 3rd session in the G40 with Stuart Pearson – my best performance on lap 4, still a little too sharp on the gear shifts he tells me
Wax Philosophical
To end of all this, I really started to understand for the first time what level I was at compared to what level I need to be at if I ever wanted to mix it with the pros. I've got some way to go and it's clear what I can improve on – I was fairly smooth on the controls and had a good racing line but need to be more relaxed and consistent with braking force, downshifts and corner entry so I can carry more corner speed. I'm thinking too much about what I'm going to do before I do it when it should be automatic and instinctive.
This is actually what worries me the most about whether I will ever be able to reach the level I need. I'm naturally a thinker but it also means I'm thinking about consequences. The consequence of going too fast into a corner for example. I'm thinking that at a certain speed, my car will slide and maybe I won't be able to catch it. So I start slow and build up gradually towards the limit, I know the limit is still far away because I've seen others go much faster and I know the G40 has an immense amount of grip. However it gets to a point where my mind is telling me subconsciously and irrationally, "go any faster and something unexpected might happen" and my legs duly obey without my consent, holding onto the brakes for that little bit longer than is necessary.
That instinct of 'safety first' tends to creep in as we get older too, in daily life it helps us to look after ourselves, but in racing it's a hindrance. If you don't have the override switch/bravery to pass this hurdle, you'll never be fast enough to keep up in a race and may even cause more danger to you or the other competitors. This is what sorts the men from the boys, except in this case it's the boys who have the advantage!
Want2race this year was epic, the weather played its role perfectly and in the end it was clear that the right person won. Best of luck to him at Donnington, I'll definitely be watching. I'm planning on getting more practice at a trackday somewhere and plan to be back next year. Bring on want2race 2014!
Hot laps from Max Coates in his G50 – now this is how it's meant to be done!